What is PensacolaSurf.com?
PensacolaSurf.com is a surf and beach report for Pensacola Beach. It is updated by phone, pictures and through our live webcam multiple times daily. From the wind speed and its direction to the tides and the quality of the waves, the conditions on Pensacola Beach are logged and easily accessible through this site.  When the surf is up, the reports are more frequent and have more pictures of our local, very talented surfers.  When the surf is flat the reports display the breathtaking beauty of this area.  The goal of PensacolaSurf.com is to bring  quality surf and beach reports to this area and to connect beach go-ers and surfers around this area and the world to the beautiful beaches of Pensacola Beach, Florida.
 Where did our inspiration come from? 
Our inspiration came from a lack of information available to view the conditions of the beach at various times throughout the day.  There are various audio reports and many more swell and wave models online that give information about Pensacola Beach.  These reports are often off because of the swiftness of the changes in the Gulf of Mexico.  Most live cams that are placed to view Pensacola Beach are usually too far away or too high up to give the average viewer an "at the beach, toes in the sand" look at the real conditions of the beach.  We have seen other surf towns such as Saint Augustine, Florida that have a dedicated surf report. We feel like this area needed not just a surf report but a beach report also, and thus we were inspired!
Who are these people?
The question of the ages…who are we?  We are Josh and Cathy Harding. Two surfers and beach lovers that are out in the water and in the sand as much as we can.
Josh grew up in Navarre, Florida and graduated from Gulf Breeze High School.  He went on to attain his undergraduate degree from the University of West Florida and is now a loan officer.   Body surfing and boogie boarding is where his love of the ocean was fed.  He graduated up to a surfboard when he was 13 and never looked back. There have been few swells that Josh has missed in his 20+ years of surfing.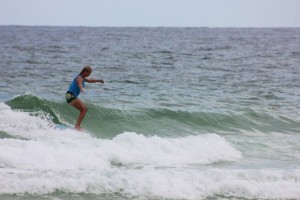 Cathy grew up in Texas.  She spent most her days with a boogie board or a fishing pole in her hand on the Gulf coast. Cathy has competed in and helped run all the Gulf Coast Surf Sister's Emeralds of the Sea contests in Navarre Beach, Florida.  She has earned at least a top three place in every contest she has competed in.  Cathy is also a triathlete placing first in her division in previous years in the Santa Rosa Island Triathlon.  She met her husband Josh while she was out surfing, and they have been married for over eleven years and have two awesome children.

Josh and Cathy are truly a team (go TEAM HARDING! woo!).  We have a single vision for this site, grow our surf and beach community.  This place that we live in is amazing.  It's hard work to keep up to date with the ever changing Gulf, but it's work that we are stoked to do.  We have dreamed of doing this for years.  Thank you for being interested and for visiting our dream manifested at www.PensacolaSurf.com